Speech and Language Development Chart – Third Edition: COLOR WALL CHART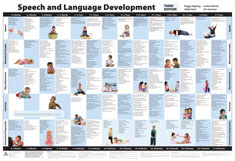 Target Group: Birth - 7 years
Our ever-popular speech and language developmental milestones reference chart has been updated, refined, and made more user-friendly than ever before! This 38-inch wide by 26-inch deep wall chart continues to serve as a quick and colorful guide for SLPs, pediatricians, parents, early childhood specialists, and teachers of children, preschool through grade 2.
Cena: 200zł
The new, third edition of the chart is also available as a pack of 25 mini-posters (11-inch x 17-inch, folded 4-pages), perfect for sharing with parents, paraprofessionals, and colleagues. The chart has been completely redesigned to appeal to a contemporary audience with clear descriptions, full-color photographs, and updated content and references. All those concerned with child development will find themselves frequently referring to these charts and mini-posters for their own reference, as a training tool, or as a starting point for discussion and collaboration.
The developmental milestones are arranged into 14 age categories, ranging from birth to 7 years of age. Each age segment lists age appropriate skills in the areas of speech, meaning and concepts, grammar, interactions and expression, and play and movement.
The colorful wall chart is printed on heavy paper and is varnished for protection. Corner holes are pre-drilled for easy hanging and the chart comes in a study cardboard tube to prevent creases. The mini-poster pack is also full-color and contains 25 copies the 4-page handouts printed on paper.